Jon Bon Jovi says Millie Bobby Brown and Jake Bongiovi are not too young to get engaged
3 May 2023, 14:24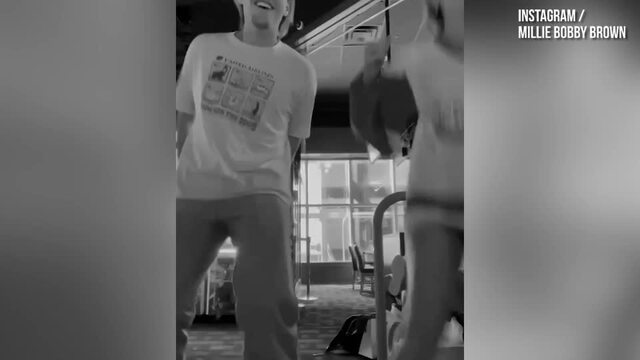 Millie Bobby Brown shares sweet clip of her boyfriend
Jon Bon Jovi has revealed how he feels about his son getting engaged to Millie Bobby Brown.
Jon Bon Jovi has responded to criticism of his son Jake Bongiovi and Millie Bobby Brown getting engaged at a young age.
Last month (Apr 11), Millie Bobby Brown and Jake Bongiovi revealed that they had got engaged to each other. Taking to Instagram, Millie posted an adorable black and white photo of her, Jake and her new ring with the caption: "I've loved you three summers now, honey, I want 'em all". Jake also posted photos of the two of them together and wrote: "Forever".
Now, Jon Bon Jovi has opened up about his son's new engagement and whether he thinks Millie and Jake are too young. Millie is currently 19 years old. Meanwhile, Jake is just about to turn 21.
READ MORE: Millie Bobby Brown says she no longer believes the earth is flat
Shortly after Millie and Jake announced their engagement, people began to question whether or not they were too young to get married. Now, Andy Cohen has asked Jon Bon Jovi if he has any concerns about Millie and Jake's relationship. He asked: "When your almost-21-year-old says, 'I'm getting engaged,' do you worry for them that they're too young?"
Jon then defended Millie and his son by saying: "I don't know if age matters. You know, if you find the right partner and you grow together, I think that would be my advice really - growing together is wise. Growing together, and so I think that all of my kids have found the people that they think they can grow together with, and we like 'em all."
Jon Bon Jovi Talks to Andy Cohen About Son Jake's Engagement to Millie Bobby Brown
Jon Bon Jovi met his wife Dorothea Hurley at high school and the pair secretly got married in their late 20s in 1989. Jon and Dorothea have remained together ever since. Together, they have four children, Jake, Stephanie, Jesse and Romeo.
FLO Spill Their Secrets In 'The Tower Of Truth' | PopBuzz Meets