Doja Cat shares unedited photo of her skin after iHeart Radio Award appearance
28 March 2023, 12:35 | Updated: 28 March 2023, 13:50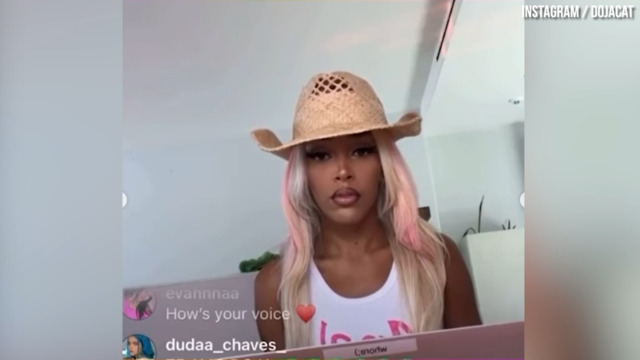 Doja Cat claps back at people commenting on her body
The singer showed off her natural skin texture after winning iHeartRadio's Most Played Artist Award.
Doja Cat shared a real and relatable post with fans when she posted a photo of her natural skin texture.
On March 27th, the 27-year-old singer won the Most Played Artist Award at the iHeartRadio Awards, which take place annually at Hollywood's Dolby Theater. Shortly after picking up her prize, Doja took to her Instagram Stories to get candid about her skin breakouts.
Sharing the raw and unfiltered snap with her 26.1 million followers, the 'Streets' hitmaker got up close with a shot of her forehead acne, showing fans that textured skin is, of course, completely normal, and that the glitz and glam that comes with these big award shows isn't the be all and end all.
READ MORE: Doja Cat claps back at people saying she's "too skinny" in livestream video
After her name was announced as winner of the Most Played Artist Award, Doja headed to the stage to make a speech.
"Again, I haven't prepared a speech," she began. "But I know that I have an amazing team and they deserve all the things in the world. I want to thank you Josh, thank you so much, Jordan, mom as well. We've all got to squeeze that in there."
"My fans, I really appreciate you and I cannot wait. Thank you. I can't wait to see what happens in the future iHeart, God bless," she continued.
Giving further thanks via her Instagram Stories, she wrote: "I can't give speeches for s**t. Thanks iHeart I love u and thanks everyone for believing in me. Also thank you Makena and thank you everyone at RCA."
Her most recent win wasn't the first time she got candid when accepting an award. At the 2022 Grammys, she almost missed accepting her award because she was on the toilet.
Doja won Best Pop Duo/Group Performance alongside SZA for their hit single 'Kiss Me More'. The historic win made Doja and SZA the first Black female duo to win in the category, and was the pair's first Grammy win. When the winner was announced, SZA made it to the stage first before Doja came running back from relieving herself.
"You've been in the bathroom for five minutes, are you serious?" SZA said to Doja, who was a little out of breath from trying to make it back in time.
"Listen… I have never taken such a fast piss in my whole life," Doja replied.
Read more Doja Cat news here:
Penn Badgley vs. 'The Most Impossible Penn Badgley Quiz' | PopBuzz Meets