Kylie Jenner accused of wearing fake eyelashes to sell new mascara
29 March 2023, 11:59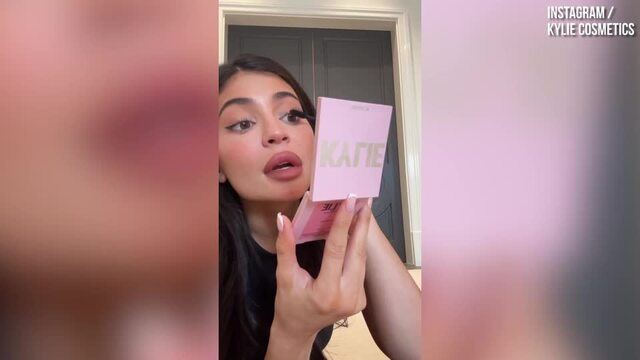 Kylie Jenner unveils her first mascara
Kylie Jenner has now addressed the claims that she's wearing "lash extensions" in the Kylie Cosmetics photo.
Kylie Jenner has been accused of wearing fake eyelashes in a photo promoting her new Kylie Cosmetics 'Kylash' mascara.
Last week (Mar 24), Kylie Jenner announced that she would be releasing her first ever mascara. Taking to Instagram, the 25-year-old posted a series of images advertising the new Kylie Cosmetics product with the caption: "first everrrrrr MASCARA 🖤 I can't wait to share it with you." Kylie's new Kylash Volume Mascara will be available to purchase online from April 6th.
However, since Kylie unveiled the new mascara, people have accused her of wearing lash extensions in the promo pics.
READ MORE: Kylie Jenner denies making fun of Selena Gomez's eyebrows with Hailey Bieber
Shortly after the announcement, a close-up photo of Kylie wearing the new mascara went viral on Instagram, with many fans criticising Kylie for appearing to wear false eyelashes. One person commented: "False lashes. You can see them." Another person wrote: "Give me a video on you applying it to get your lashes to look like this first WITHOUT lash extensions."
Someone else added: "Kylie please remove the lash extensions 😂😂 girl we can all see them for real 💯 please learn to keep things 💯 percent real." The accusations come shortly after influencer Mikayla Nogueira faced backlash after appearing to wear false eyelashes in a TikTok video promoting a new L'Oreal mascara.
Kylie Cosmetics claim that Kylash mascara gives you "volumised, fuller, beautiful lashes, no matter your lash type". They also say that the product gives you "instant volume that lasts all day".
Now, Kylie has responded to the accusations. Replying to a fan who commented: "Do you have lash extensions on in this picture?", Kylie wrote, "i don't !!!! 🖤." Kylie also posted a video of her applying the mascara.
ATEEZ Spill Their Secrets In 'The Tower Of Truth' | PopBuzz Meets