Sofia Richie's wedding has gone viral and people are obsessed with her outfits
25 April 2023, 17:32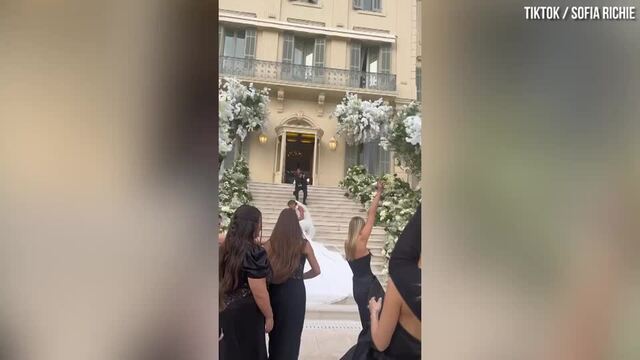 Sofia Richie throws her bouquet at South of France wedding
Sofia's fashion "rebrand" is also going viral on TikTok.
Excuse me, get out of the way... new It Girl coming through! Sofia Richie? The internet is well and truly obsessed.
If you've been on TikTok over the past week or so, then you'll have no doubt come across countless videos from Sofia's recent wedding to music executive Elliot Grainge. The couple got married in a stunning ceremony in the South of France, complete with three custom Chanel dresses, and an entire wardrobe of sleek and effortless designer outfits.
The whole thing was also documented by Vogue. And it was very, very rich, to say the least.
Photos and videos from the wedding have now flooded the internet (literally, there's not a single timeline that is safe from Sofia Richie's wedding right now), and people have fallen completely in love with the vibe of Sofia's luxe aesthetic.
In case you're not familiar with Sofia Richie, here's a quick celeb history lesson: Sofia is the youngest daughter of Lionel Richie and sister of Nicole Richie. She also previously dated Justin Bieber and Scott Disick, and used to be besties with the likes of Kylie Jenner.
The 24-year-old has always been a bit of a style inspiration to her fans across the world, but her recent viral wedding seems to have elevated her to a new level of fashion girl adoration.
Sharing photos of her wedding weekend with Vogue, who have dubbed the whole thing "this year's royal wedding", fans cannot get enough of her style evolution.
"Sofia Richie's rebrand has been fantastic. 10/10," one user commented.
Sofia Richie's rebrand has been fantastic. 10/10

— 'How To Save It' (@Bola_Sol) April 23, 2023
As well as Sofia's fashion, people have just been so obsessed with everything that happened at the wedding.
Custom Chanel wedding dresses, guests dressed as if they're going to the Oscars, custom jewellery designed by Nicole Richie, Paris Hilton in attendance, Lionel Richie singing his own classics for couple's first dance, Good Charlotte performing at the reception, Sofia losing her shit on the stage while Cameron Diaz is losing her shit in the crowd...
The whole weekend was documented by Sofia on TikTok too. Her video of her wedding day has 5.6 million views and over 1.3 million likes, and it hasn't even been 24 hours since she posted.
Slay, tbh.
READ MORE: Here's what all the Kardashians wore to Kourtney and Travis Barker's wedding
FLO Spill Their Secrets In 'The Tower Of Truth' | PopBuzz Meets