JoJo Siwa appears to slam Nickelodeon boss for their reaction to her coming out
24 March 2023, 14:44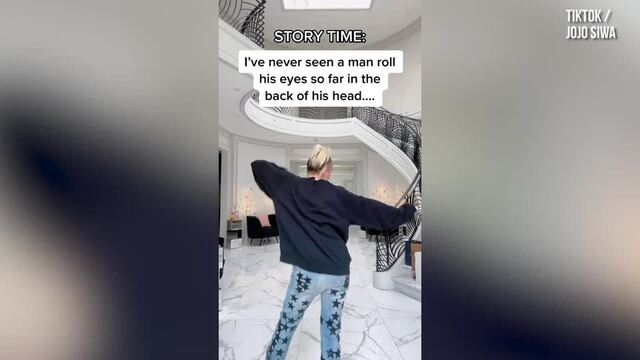 JoJo Siwa appears to call out Nickelodeon for how they reacted to her coming out
"I've never seen a man roll his eyes so far in the back of his head".
JoJo Siwa has appeared to slam Nickelodeon for how the company reacted when she came out to them.
The former Dance Moms star first spoke out about her sexuality in a casual Tweet that was posted in January 2021. "My cousin got me a new shirt" she wrote, showing off the "Best. Gay. Cousin. Ever." slogan.
In a new TikTok video, the dancer revealed how negatively a certain company treated her when she revealed she was a member of the LGBTQ+ community.
A quick look back at other incidents, and it's easy to assume that JoJo is calling out Nickelodeon. Since coming out publicly, the 19-year-old has been vocal about the negativity she has received from Nickelodeon, who she previously worked with on a range of projects including The JoJo & BowBow Show Show.
READ MORE: JoJo Siwa breaks down in tears after first singing lesson in six years
On March 23rd, JoJo posted a TikTok video that explains that she was pulled into a meeting with the undisclosed company shortly after coming out via her Twitter account.
"January 2021 - I come out to the world.. the company I work for told me they needed to have a meeting with me ASAP," the text begins. "During this meeting, the PRESIDENT of the company negatively asked me 'what are you gonna tell your young demographic?"
In response, JoJo told the company that she would tell her younger audience the truth - that she is gay. JoJo added that she had to take a second to process what she had been asked.
"I've never seen a man roll his eyes so far in the back of his head," she explained. "It was silent so I started talking again… I said… 'I'm not gonna hide who I am and who I love to anyone, ESPECIALLY to the next generation."
She ends the video explaining that she has received support from adults who wished they had a role model like her when they were younger, and that it reminds her that she did the right thing in that meeting.
JoJo added: "Never let ANYONE change who you are."
The TikTok video, which has received 3.1 million views at the time of writing, garnered thousands of comments from friends and fans showing JoJo their support, in addition to people speculating that she was referencing Nickelodeon.
Max Balegde wrote: "ANOTHER COMMON JOJO SLAY". Meanwhile, Garrett Clayton commented: "yes yes yes yes you did. so happy for you bb!" and social psychology researcher Dr. Steve Rathje simply wrote: "Ended flopalodeon".
Nickelodeon has now responded to JoJo's claims. In a statement told to E! News, a Nickelodeon spokesperson said: "We are unaware of what incident or meeting JoJo is referencing, but it certainly did not happen at Nickelodeon. We have valued and supported JoJo since day one of our relationship together and we still do today."
In April 2022, JoJo revealed that Nickelodeon hadn't invited her to the Kids' Choice Awards, despite her being nominated for Favourite Social Music Star. In an Instagram post, she wrote: "A lot of you have been asking why I'm not at the Nickelodeon Kid Choice Awards tonight, I don't want anyone to think it was my choice not to go... I simply didn't get an invite :(."
Highlighting another issue she had with the network, in October 2021, JoJo said that Nickelodeon wouldn't let her perform new songs on her 2022 tour.
Read more JoJo Siwa stories here:
Penn Badgley vs. 'The Most Impossible Penn Badgley Quiz' | PopBuzz Meets